Bio, Birgit Huttemann- Holz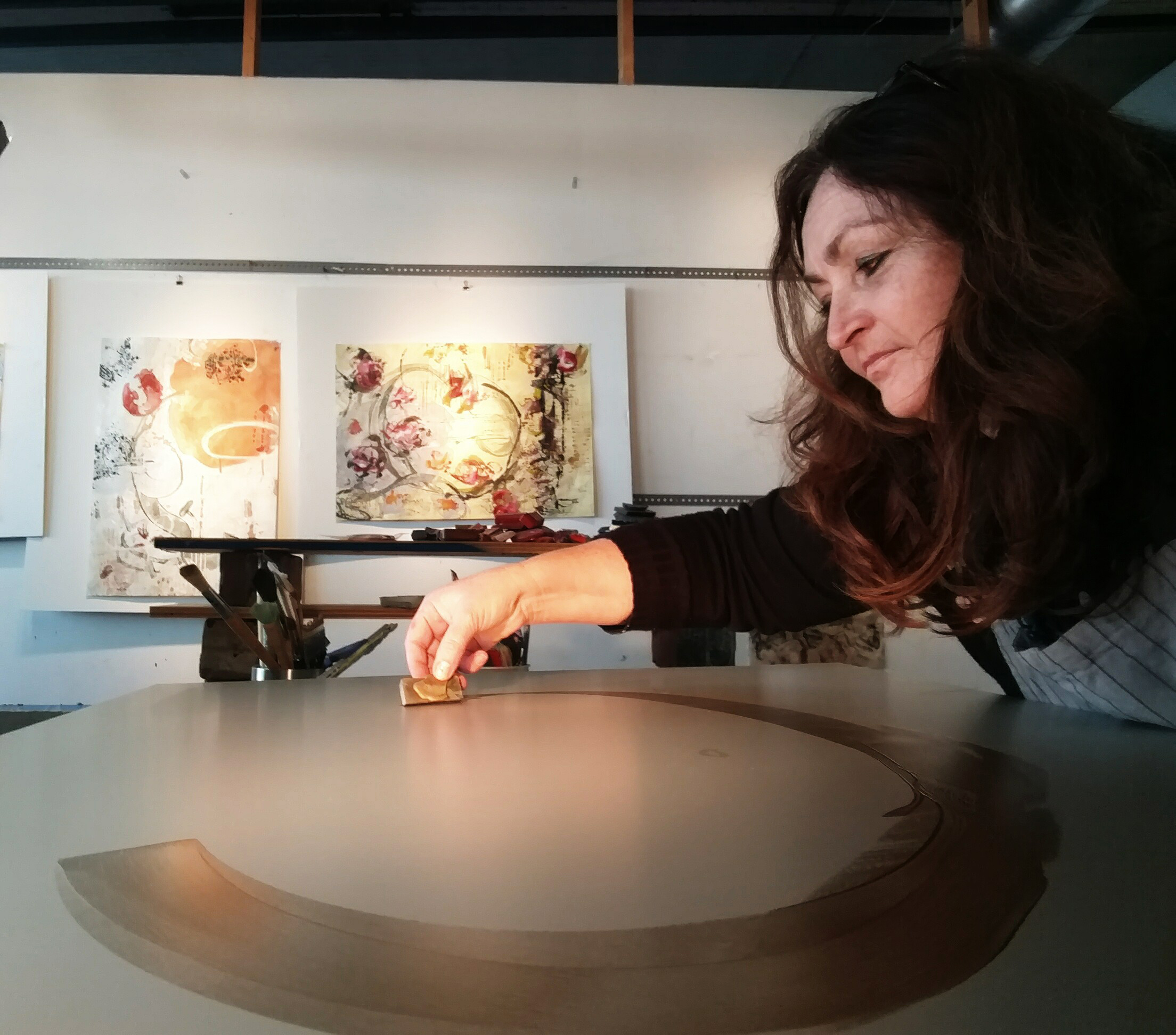 Bio

In the studio of her uncle Werner Holz, an outstanding German artist, Birgit Hüttemann-Holz was exposed to Imaginary Realism/ Phantastische Malerei from early age on. Intrigued by the contradictions of the human psyche she first started to write poetry.
While working as a Physical Therapist, she went to study literature, philosophy and media science at the University of Karlsruhe and Philipps-University in Marburg, Germany.
A sudden move to the US triggered an end to her writings. A universal language was needed- a visual form that moved her words beyond the limitations of translations and geography.


Birgit's energetic works show a lush world, where nature is in constant celebration. Orchids, verdant gardens, and imaginary spaces become synonym with sanctuaries. Deeply inspired by the beauty of flowers and landscapes, Huttemann-Holz pushes her subject to a place of gestural abstraction with sweeping gestures, layering curves, and punctuating forms of saturated tones.
She employs a myriad of media, including encaustic, oil, acrylic, encaustic monotype and even throwing and painting ceramics.
Birgit Huttemann-Holz depicts both her vision and feeling of a world where beauty and vulnerability are the touching keystones.
Birgit Huttemann-Holz has exhibited nationally and internationally and is represented in Germany, The Netherlands, and in the US. She was awarded Finalist of the International Portrait Competition, Society for Art of Imagination, UK (2011), Best of Show, Platform Award, OK (2013), Best of Show, NANA 14, FL (2014) and won multiple awards nationwide.Her work was selected for Studio Visit Magazine, winter edition 2013, spring edition 2017, for the Palm Award, Germany (Certificate of Excellence) 2015 and Saatchi Collections "New This Week", April 2014, January 2018, "Inspired by Cy Twombly" April 2017 as well as for "The Other Art Fair" presented by Saatchi Art, NY, Nov 2017.
Her book "Enkaustik- Das Grundlagenbuch zur Wachsmalerei" was published April 2015, Christopherus Verlag, Germany and translated into English and published by Schiffer, Oct 2017 , "How To Create Encaustic Art- a guide to painting with wax."
"Wachsmalerei- Birgit Huttemann-Holz", a tutorial video and three documentations were published in 2016/2017 with the group "geistreich-lernen.de", Germany
She attended a month long residency at The Studios of Key West in February 2017.
Birgit is reselected for "The Other Art Fair" presented by Saatchi Art and will be at the Expo Center in Brooklyn, NY, May 3-6.
Huttemann- Holz lives and works in Detroit, USA.
Selected Honors and Awards:


Saatchi Art "The Other Art Fair", NY, May 3-6, 2018
Saatchi "New this week" Saatchi Showcase, Jan 8, 2018
Saatchi "New this week", Collection Showcase, Jan 1, 2018
Saatchi Art "The Other Art Fair", NY, November 2017
Saatchi, "Inspired by Cy Twombly", Collection Show Case, April, 2017
Artist Residency at The Studios of Key West, 2017
Artslant Showcase Winner round1, Juried, 2017
Artslant Showcase Winner round 2 and 3, Juried, 2016
Honorable Mention. Silver Medal Exhibition, Scarab Club, Detroit, Juried, 2016
Palm Award. Certificate of Excellence, Germany, 2015

Artslant Showcase Winner Round 1,3 and 6, Juried, 2015
Best of Show. NANA 14. Lucky Street Gallery, Key West, FL, Juried, 2014
Saatchi, "New This Week", Collection Show Case. April, Invitational, 2014
Artslant Showcase Winner round 3 and 5, Juried, 2014
First Place. American Art Award. Category Abstract Impressionism, USA national, Juried, 2013
Second Place. American Art Award. Category Minimalism, USA national, Juried, 2013
Best of Show. National Platform Award. Paseo Originals Art Gallery, Oklahoma City, OK, Juried, 2013
Artsland Showcase Winner second round, Juried, 2013
Second Place. Urban Edge, Grosse Pointe Art Center, Grosse Pointe, MI, Juried, 2013
Artslant Showcase Winner. First/Fourth/Sixth round, 2012
Honorable Mention, WAX National Encaustic Exhibition, Scarab Club, Detroit, MI, Juried, 2012
Best of Show. Urban Edge, Grosse Pointe Art Center, Grosse Pointe, MI, Juried, 2012
Best Of Show. Our Rivers Our Lakes, Grosse Pointe Art Center, Grosse Pointe, MI, Juried, 2011
Artslant Showcase Winner. Third/Forth/Sixth round, 2011
Finalist of the International Portrait Competition, 2011. Society for Art of the Imagination, UK, London, Juried, 2011
Stipend Recipient. "Stand in the Place Where you Live" Collective enterprise of Chelsea Center for the Arts& Legacy Land Conservancy, 2011
Second Place. The Green Show, Grosse Pointe Art Center, GP, MI, Juried, 2011
Invitation to Biennale Florence, Italy, 2011
Artslant Showcase Winner. Second/Fifth round, 2010
Second Place. Humor Me. Grosse Pointe Art Center, Grosse Pointe, MI. Juried, 2010
Talentseekers Top 100. Place 27 out of 4500 artists from 85 countries, 2009/2010 , http://www.talentseekers.net/awards2009_2010.php
Third Place. The Green Show, Grosse Pointe Art Center, Grosse Pointe, MI. Juried, 2010
Honorable Mention. World Art Expo 09, Master Competition, Brea, CA. Juried, 2009
Honorable Mention. The Body Eclectic, Lawrence Street Gallery, Ferndale, MI. Juried, 2008


Solo Exhibitions:

2018 The Weight of Orchids, Paintings, Prints, Ceramics, Sept. 21-Oct.30, River's Edge Gallery, Wyandotte, MI
2017 The Weight of Orchids, Studios of Key West, Ashe Campus, Key West, FL, 2017

2016 "Birgit Huttemann-Holz, Laura Atkins, Tim Pewe, Robby Gall, "Washes, Wax, Wood& Wishes", River's Edge Gallery, Wyandotte, Mi
2015 "Birgit Huttemann-Holz and Stephen Palmer", June 18- July30, Ward Gallery, Petoskey, MI
2013 "Between Heaven and Earth", Oct 5- Nov 15, River's Edge Gallery, Wyandotte,MI
2011 "Affairs with Serpants and HeroINES", (3 women show), River's Edge Gallery, Wyandotte, MI
2009 "Wherever you are", encaustic paintings, Gallery at the Unitarian Church Birmingham Bloomfield, Mi
2008 "Come Away with Me" encaustic paintings, GPAC (Grosse Pointe Art Center), Grosse Pointe, MI
2007 "Birgit Huttemann-Holz", paintings in oil and encaustic, Doan Residency, Grosse Pointe Farms, MI

Selected Group Exhibitions:

2018
"The Other Art Fair", presented by Saatchi Art, May 3-6, Expo Center, Brooklyn, NY

Wax & Paper, Hudson Valley Art Center, Feb 28- March30, Highland, MI
Kunst & Antiek Weekend Grote Kerk, McSorely Fine Art Gallery, Jan 25-28, Narden Vesting, Netherlands

2017
The Other Art Fair, presented by Saatchi Art, Nov 9-12, Expo Center, Brooklyn, NY
AIMPE '17, Awagami Internat. Miniature Print Exhibition, Awagami's Hall of Awa Japanese Handmade Paper Museum, Oct 7-29, Japan
WAX, Birgit Huttemann-Holz, Candy Law, Graceann Warn, Chris McCauley, Linda Cole, Sept., Scarab Club, Detroit, MI (invitational)
16th Annual Open Studios, Oct 7, The Pioneer Building, Detroit, MI
SEVEN, May-June, River's Edge Gallery, Wyandotte, MI
#detroitsecretsessions take II, live performance and concert with Ivan Moshchuk and Birgit Huttemann-Holz, June 20 , 8pm, Jam Handy, Detroit, MI
USA Boutique "Meet the Artist", 333 Midland, June 17, Detroit, MI
DAM Detroit Artist Market Garden Show, June 15, Grosse Pointe, MI
Art Route, Gallery McSorley, s-Graveland, May 20-21, Netherlands
On the Deck, Studios of Key West, Katie Pumpfrey and Birgit Huttemann-Holz, Key West. FL


2016
Detroit Biennale, Sept 26 - Oct 1, MONA Museum for New Art, Armada, MI
15th Annual Open Studios, Oct 1,The Pioneer Building, Detroit, MI
Encaustic Art in the 21st Century, July + August, Encaustic Center, Santa Fe, NM (invitational)
Vive les arts, viva la liberte, vive les amoures, May 8 - Sept 30, Gallery McSorley, AN's-Graveland, Netherlands
Bugs, Blooms & Beasts, May, Scarab Club, Detroit MI, (juried)
The Pioneers, April 16- June 3, Cass Cafe, Detroit, Mi (invitational)
Washed, Wax, Wood & Wishes, March 18- May 21, River's Edge Gallery, Wyandotte, MI (invitational)
Silver Medal, Feb 17- April 2, Scarab Club, Detroit, MI (juried) Honorable Mention

2015
Behold the Soul/ Zie den Mens, Nov 15- Feb 13 2016, St Paulus Church, Breukelen, Netherlands
14 th Annual Open Studios, The Pioneer Building, Detroit, MI
Contemporary Encaustic 2015, Royal Contemporary, Florence, CO (juried)
Let's Pretend, River's Edge Gallery, Wyandotte, MI ( invitational)
Zusammenarbeit, River's Edge Gallery, Wyandotte, MI (invitational)
Verleidelijik van Eva tot Lipstick, Gallery McSorley, AN's-Graveland, Netherlands (invitational)

2014
NANA 14, Lucky Street Gallery, Key West, FL (juried) Best of Show
Terra Nova II, Duderstadt Gallery, Universtity of Michigan, Ann Arbor, MI (invitational)
Group Exhibition- Gallery McSorely, Kl's-Grave, The Netherlands
Detroit Connections- Women printmakers and their Mentors, N' Namdi Center for Contemporary Art, Detroit, MI (curated)
Subliminal- Eighth International Encaustic Conference Exhibition, The Castle Hill Gallery, Provincetown, MA (juried)
Columbus Invitational Arts Competition, King Arts Complex, Columbus, OH (invitational)
Revelation,WCA Michigan, Riverside Art Center, Ypsilanti, MI (juried)
Terra Nova, Power Center, University of Michigan, Ann Arbor, MI (invitational)
Ninth Annual Encaustic Invitational- Year of the Monotype, Conrad Miles Gallery, Tucson, AZ (juried)


2013
MONA, Museum for New Art, Armada, MI (Invitational)
Rodin Summershow, Rodin, Detroit, MI (juried) Honorable Mention
POP Up River's Edge Gallery, June, Detroit, MI
USA Encaustic, ARC Gallery, Chicago, IL (juried)
BBAC Alumni, BAC Birmingham Bloomfield Art Center, Birmingham, MI (invitational)
Finalist Platform Award Exhibition, Paseo Originals Art Gallery, Oklahoma City, OK, (juried) Best of Show
Pure Genius, Art at the Edge Gallery, Wyandotte,MI
Urban Edge, Grosse Pointe Art Center, MI (juried) Second Place

2012
4731 Invitational 2012, Oct 14-November 28, 4731 Gallery, Detroit, Mi (invitational)
Nature Speaks, October 22- November 28, Madonna University, Detroit, MI (juried)

Man Up- No Balls about it !, July 12- August 9, The Duderstadt Gallery, University of Michigan, MI (juror: Suzy Lake)

Mixed Media, June 29- July 30, Scarab Club, Detroit, MI (juried)

Michigan Fine Arts Competition, March 30- May 4, Birmingham Bloomfield Art Center, Birmingham, MI (juried)
Wax, March 25- May 13, Scarab Club, Detroit, MI (juried) Honorable Mention

Where the Wild Things Art, March 9- April 14, Grosse Pointe Art Center,Mi, (juried) Honorable Mention

Hommage. Feb 17- March 1, River's Edge Gallery, Wyandotte, Mi (invitational)
Urban Edge, Jan 20- Feb 25, Grosse Pointe Art Center, MI (juried) Best of Show

2011
Stand in the Place Where you Live, Chelsea Center for the Arts, Chelsea, MI (juried)
Affairs with Serpents and HeroINES, (3 women show), River's Edge Gallery, Wyandotte, MI (invitational)
Our Rivers Our Lakes, Grosse Pointe Art Center, MI (juried) Best of Show
4731 Invitational 2011, 4731 Gallery, Detroit, MI (invitational)
Word Play, GPAC, Grosse Pointe, MI (juried)
4731 Gallery, Detroit, Mi (invitational)
Fire and Ice, Grosse Pointe Art Center, MI, (juried) Third Place
Artexpo New York 2011, New York City, NY
The Green Show, Grosse Pointe Art Center, Grosse Pointe, MI (juried) Second Place
Artexpo Istanbul, March, Istanbul, Turkey

Playing with Fire, Tubac Center for the Arts, Tubac, AZ (juried)
Resolution, Grosse Pointe Art Center, Grosse Pointe, MI (juried) Honorable Mention

2010
Balance, Holland Area Arts Council, Holland, Mi
Ray Johnson & A Book About Death, SAL Gallery,CW Post Campus, LIU, Brooksville, NY
Balance, The Reflection Gallery, Finnlandia University, Hancock, MI,
Balance, River's Edge Gallery, Wyandotte, MI
Humor Me, Grosse Pointe Art Center, MI (juried) Second Place
Balance, The Duderstadt Gallery, Universtity of Michigan, Ann Arbor, MI
Exploring the Triptych, National Encaustic Exhibition, LUX Center for the Arts, Lincoln, NE (juried)
Fifty Years Fantastic, La Galleria Pall Mall, Trafalgar Square, London, UK (juried)
All American Tour, Las Vegas, NV (invitational)
The Green Show, Grosse Pointe Art Center, Grosse Pointe, MI (juried) Third Place
Opening Exhibition of the International Art Center, Istanbul, Turkey (invitational)
The Body Eclectic, Lawrence Street Gallery, Ferndale MI (juried)

2009
All American Tour, Miranda Galleries, Laguna Beach, CA (invitational)
Ben Franklin Project, 555 Gallery @4731 Gallery, Detroit, MI
Divine, Chalk Farm Gallery, Santa FE, NM (invitational)
Imagine, National Encaustic Exhibition, Elderstreet Gallery, Houston, TX (invitational)
Embedded Light, National Encaustic Exhibition, GPAC, Grosse Pointe, MI (juried)
A Book about Death, Emily Harvey Foundation Gallery, New York City, NY (invitational)
Small Show, DAM Detroit Artist Market, MI (invitational)
Modern Art Gallery, Karlsruhe, Germany
World Art Expo, Brae, CA (invitational) Honorable Mention
Home, Gallery at the Duderstadt Center, Ann Arbor, MI (juried)
Wherever you are, encaustic paintings, Solo exhibition, Gallery at the Unitarian Church Birmingham Bloomfield, MI
The Body Eclectic, Lawrence Street Gallery, Ferndale MI (juried)
Art On the Move, GPAC, Grosse Pointe, MI (juried)

2008
Come away with me, featured artist, GPAC (Grosse Pointe Art Center), Grosse Pointe, MI
Students of Clinton Snyder, BBAC (Birmingham Bloomfield Art Center), MI (invitational)
Our Rivers Our Lakes, GPAC, MI (juried)
Ben Franklin Project, Gallery 555, Detroit, MI (juried)
The Body Eclectic, Lawrence Street Gallery, Ferndale, MI (juried), Honorable Mention

2007/2006
Continued Education, CCS College for Creative Studies, Detroit (juried)
The September Event, Gallery 555, Detroit (invitational)
Avantgarde, GPAC, Grosse Pointe (juried)
Golden Medal, Athletic Club, Detroit, (juried)
Golden Medal, Scarab Club, Detroit (juried)
Our Rivers Our Lakes, GPAC, Grosse Pointe (juried)
Michigan State Fair, Detroit (juried), Second Place

Continued Education 2004-2012

CCS College for Creative Studies, Detroit, MI, USA, 2004-07
BBAC Birmingham Bloomfield Art Center, Birmingham, MI, USA, 2005-09
IEA International Encaustic Artists, Carmel, CA , USA, Lecture: Tony Scherman, 2010
Paula Roland, Advanced Encaustic Monotype, Santa Fe, NM, 2012
Paula Roland, Advanced Encaustic Monotype II, Santa Fe, NM, 2013

Studies abroad 2010
Summer Academy for the Arts, Marburg, Germany, Prof. Andras Enszt, Hungary

Publications:
"How to create Encaustic Art- a guide to painting with wax", Schiffer, 2017, ISBN-10: 0764354167
Wachsmalerei– Tutorial Film, Birgit Huttemann-Holz, geistreich-lernen.de, 2017

Studio Visit Magazine, spring edition, Vol 36, 2017

Wachsmalerei- Einführung und Fortgeschrittene, Birgit Huttemann-Holz, 138 min Video, geistreich-lernen.de, 2016

Studio Visit Magazine, winter edition 2016
Who is Who, Domain Verlag, Leipzig, 2016
Encaustic Art in the 21st Century, by Ann Lee and E.Ashley Rooney, Schiffer, ISBN 978-0-7643-5023-8, 2016
Voices- An Artist's Perspective, by unitewomen.org and Karin Gutfreund, ISBN 978-1-939637-1106, 2015
Enkaustik- Das Grundlagenbuch zur Wachmalerei, by Birgit Huttemann-Holz, Christopherus Verlag, Germany, ISBN 978-86230-304-5, 2015
Visual Language Magazine, Featured Artist, 2014
Studio Vistit Magazine, winter edition 2013
Wanderlust- Poems and encaustic paintings by Birgit Huttemann-Holz, Blurb, 2013
USA Encaustic, Arc Gallery Chicago, catalogue, 2013
Artlines, WCA Women Caucasus for the Art, Newsletter, Frontcover, 2013
The Stories We Tell, WCA Women Caucasus for the Art, catalogue, 2013
Contemporary Painters, Schiffer Publishing, 2012
Man as Object: Reversing the Gaze, SOMArts Cultural Center, catalogue 2011
Interview with Birgit Huttemann-Holz, Feb.2011, Neoconartist blogspot.com, 2011http://theneoconartist.blogspot.com/2011/02/interview-with-birgit-huttemann-holz.html
Musetouch, Feb 2011, featured artist, online fine art magazine, 2011
Whoople, Feb 2011, artist interview, fine art blog, 2011
Collaboration for fine art set decor with Next Films, Inc. of New York City, NY, 2010
Cover Art for: I broke up with my Haiku, Craig Boehman, ISBN 10: 1450545491, 2010
"Who is who 2010", Domain Verlag, Leipzig , Germany, ISBN 978-3-9813474-1-8, 2010
"Worldartfoundation Masters", Umbrella Publishing, Orange County, CA, 2009

TV Appearances:
"Art and Design", Birgit Huttemann- Holz, WMTV5, Oct7, 2013
"Art", Birgit Huttemann-Holz, Oxford TV, MI, 2013
"Art and Design", Birgit Huttemann-Holz, WMTV5, Nov.19 and 22, 2009
"The John Proust Show ", Birgit Huttemann- Holz& Bonnie Delsener, GPAC, WMTV5, Oct.6, 2009